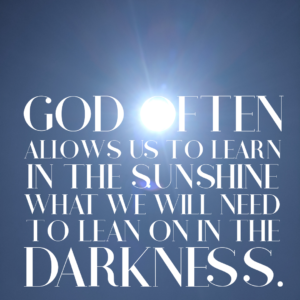 In the darkness, I come to you. Longing to hear your voice…seeking to find comfort. As the first light of morning dances across the horizon, I speak your name and await your answer. I keep calling, Lord, and I will keep waiting.
But you, Precious Savior, come when the time is right. You come when I am busy or distracted. You come when I think I'm ok and shine your light into my pretending. Be my every thought so I don't forget I am not my own but yours. Let the power that can calm the seas, calm the storm in me. Let my want be filled with more of you. Erase my doubt and let me breathe in your holiness.
You are the sunshine that follows the storm. You are the anchor when I'm adrift. You are my Redeemer and my Friend. I praise you and adore you…my All-in-All. Amen.
-Pastor Maria