Heritage UMC office hours are Monday's 9-11am, and Tuesday's and Thursday's from 9am-Noon. We are always available via email or you can leave messages at the church number 913.897.6446 and we will get back to you. Be sure to leave your message on a staff member's extension.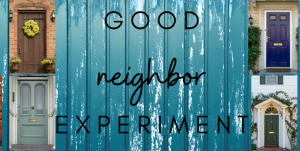 Exciting things happening at Heritage in 2021!
Our Heritage UMC family will be joining the Good Neighbor Experiment. Through sermons, small group studies, actions in our neighborhoods – we will learn to develop long-term relationships in our neighborhoods that can change the world.
Watch for more information on how you can be a part of the experiment in 2021.
Join us each Sunday as we worship together LIVE!
Let us know you joined us online.