Here's What's Happening at Heritage!
Join us Sunday, June 30 at 9am and 10:30am for Linda and Rick's last Sunday at Heritage.
The Sunday message is:
"Called to be Clowns"
Our scripture for this Sunday:
1 Corinthians 1:18-31
Our 10:30 Worship service set list includes:
 Only Jesus
Better is One Day
Amazing Grace, My Chains Are Gone
  In Christ Alone
All the People Said Amen
Just a note:  Our AV system is under construction and thanks to a special donor,
new equipment is on order and we should be back up and running shortly.
 _____________________________
 Rev. Linda Louderbacks'  last service will be this Sunday 6/30.  If you would like to drop her a note or card of thanks, please leave them in the church office or be sure to thank her in person on Sunday!
Linda and Rick have been great help to the staff and our congregation over the past few months and we thank them for their service, leadership and support of Heritage.
Please share with your small group members and encourage them to offer their thanks too.
_______________________________________
Name Badges
Who are you? We want to know!
Please wear your name badge so that
we can call you by name.
Don't have a badge? Fill out the blue form in the pocket of the attendance pads or on the information boards and drop in the church office. We will be ordering nex tweek!
_________________________________
Interfaith Hospitality
Network (IHN) Training:
    Four weeks a year, Heritage hosts the IHN families at Heritage House. Volunteer opportunities during the Host Week include preparing and serving the evening meal, playing games with the kids, visiting with the adults, and/or serving as an overnight host. Join us for the next IHN training Wednesday, July 10th, 6:30 – 8:30 PM at St. Thomas the Apostle Episcopal Church, 12251 Antioch Rd. No RSVP necessary, but IHN does require you to arrive on time and stay the entire 2 hours to be considered a trained volunteer. For more information contact Jackie William, jackie_william@mail.com.
_______________________________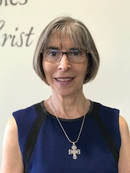 Coming Sunday, July 7th
Only one more Sunday!
Join us in welcoming Pastor Maria Campbell
to the Heritage Family.
_________________________________
Help us fill the freezer!
We are filling the freezer with casseroles for those recovering from surgeries and illness and for families in need. Please package your frozen casseroles, soups, and pastas in a disposable container labeled with date and cooking instructions. Drop off your meal in the freezer in the church kitchenette. Thank you for caring!