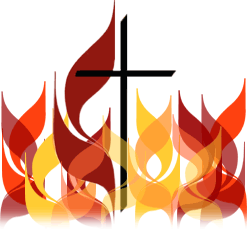 Heritage is a United Methodist Church. We expect our leaders to honor our denominational tradition and to pursue ministry in keeping with our tradition.
United Methodists are not afraid to ask difficult questions, to take on tough subjects, and to admit that we do not always understand the answers. We are "people of the Book" – holding the Bible to be the inspired Word from God and encouraging people to read, study and live by its words. United Methodists also believe the Bible came to us through people who heard God's Word in the light of our own cultural and historical circumstances. And hence, we study the scriptures carefully, making use of scholarship and asking critical questions. And, as United Methodists encounter theological differences among Christians, we bear in mind John Wesley's approach, "in essentials, unity; in non-essentials, liberty; in all things, charity."
United Methodists are people who love God with all our hearts, souls, minds and strength and love our neighbors. We pursue acts of piety toward God and acts of mercy toward others. We value passionate worship, relevant preaching, small groups to hold Christians accountable to one another, the need to address the social issues of our time and the need to be people whose faith is firmly rooted in and built upon the scriptures. Methodists value the full participation of women and men, people of all races, classes and backgrounds in all facets of fellowship and leadership within the church and society.
"From our earliest days United Methodists have believed that providing health care to others is an important duty of Christians" (Book of Resolutions, #3201 Health Care for All in the United States).

Communities of faith have prayed, rallied and advocated for health care for all people for decades. A few years ago, we got one step closer through the passage of the Affordable Care Act. While not perfect, it expanded health care to millions of people in the United States.

Members of Congress have now released a bill that not only rolls back the progress made by the Affordable Care Act, but also dismantles the historic protections in Medicaid. Medicaid is a vital, decades-old program that provides health care to working class people, low-income families, pregnant women, people with disabilities and those who need long-term care.

We must not allow our leaders to take away affordable and accessible health care from the communities who need it to live and live abundantly.

This bill has been promoted as a "fix" to the health care system in the United States but will do nothing to improve access and affordability. Instead, it will harm many in the congregations and communities in which we live and serve. People will die because of efforts like this to roll back health care.

The Social Principles of The United Methodist Church state, "Health care is a basic human right" (Social Principles ¶162.V). Each person deserves health care regardless of our religion, social standing or ability to pay.

I will be calling my members of Congress to urge them to vote no on the bill, and I encourage United Methodists in the United States to join me in advocating for a health care system that leaves no person behind.

To access the phone number to Congress, a calling script, and a fact sheet about The United Methodist Church and health care, click here. To view this email on the web, click here. 

Peace,

Susan Henry-Crowe
Great Plains United Methodist Outreach Programs
The E.C. Tyree Health & Dental Clinic promotes access to quality healthcare for residents of Wichita and the surrounding areas.  The clinics programs integrate physical, mental, emotional, and spiritual well-being so that these services empower individuals to change behaviors that improve their quality of life.  Saint Mark United Methodist Church has responded to the growing needs of the Wichita community to provide access for the underserved in the areas of physical, mental, and spiritual health to the community.

Saint Mark United Methodist Church and The E.C. TYREE Health & Dental Clinic has expanded to a new model of care that integrates medical, dental, and mental health services so that one place will take care of the whole person.  The CEO for the clinic, Ms. Schaunta James-Boyd, says; "Tyree Clinic gets the privilege of standing in the gap for families who often fall through the gap.  We do not just see the patient but walk hand in hand to address medical, dental, and mental health needs.  Tyree is 1 of 2 Kansas clinics who is full scale but receives no federal funding.  Tyree is the ray of hope that helps to change lives."   The E.C. Tyree Health & Dental Clinic is a 501©(3) charitable organization.
Donations are used to cover operating expenses incurred to provide families care with limited resources.  If you would like to sustain this important ministry within the Great Plains Annual Conference so that it continues to make a difference, go to www.tyreeclinic.com to donate, get involved or learn more about ways to serve.
****NEW****
July 2017 Certificate of Participation Interest Rates
12 Month term – 1.20%
24 Month term – 1.50%(Effective as of July 1, 2017. Interest Rates for the Certificate of Participation Fund are reviewed and adjusted on a monthly basis.)
To learn about our Certificate of Participation program, to obtain an offering circular, current rates and an application form, please visit our 
website
.
The Kansas Area United Methodist Foundation serves as a financial and stewardship resource to United Methodist churches, individuals and ministries.  The Foundation provides the following services: Investment Services, Certificate of Participation Program, Church Loans, Legacy Ministry Education, Stewardship Education, Capital Campaign Services, Estate/Will Planning Services and Free Consulting for those who wish to discuss charitable gift ideas. Thank you for your interest in "Your" Kansas Area United Methodist Foundation.
Please forward this email on to people, churches, and organizations that would find our services helpful.


To learn more about these services, please call us at 888-453-8405 or www.kaumf.org.